THE WILKOF PROJECT have just dropped the official music video for their single "Pocket Full Of Pride" from their album "All Or Nothing"
"Pocket Full Of Pride" is a fantastic track with a full on hard rock attitude that just oozes an aggressive passion. The heavy chugging Black Sabbath like guitar riffs launch you into the song with abandon, the bass and drums just underline a heavy melody that will immediately get you banging your head. The rhythm is beautifully tribal held up with the riffage that just runs throughout the track. The vocals superbly surf along the crest of the metal wave. What makes this more remarkable is that this is a three piece yet the track sounds like a five piece minimum. This is a song that you need to stick into your playlist.
NOW AVAILABLE on iTunes, Google Play, Amazon, Spotify & IHeart Radio.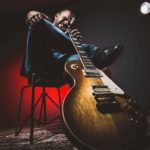 THE WILKOF PROJECT from West Palm Beach, FL, was conceived in 2016 by singer/guitarist Matthew Wilkof, formally of the band Another Black Day.
The line up was solidified in 2018 with members TJ Bumgardener on drums and ex Saigon Kick bass player Tom Defile.
The band's sound is comprised of searing guitar work and aggressive yet passionate vocals coupled with a driving and solid rhythm section.
The three piece unit's live performance is a tight knit machine bringing a visceral experience both audibly and visually to their audiences.
Follow THE WILKOF PROJECT on their Website | Facebook | Bandcamp | Twitter | Instagram | YouTube