Electric Mary's new album "Mother" kicks off with the incredibly infectious rocking tune of "Gimme Love". It chugs out bringing you back to an early Led Zepplin with the gusto of pure modern bluesy rock. You will not stop banging your head or tapping your feet to this track. The musicianship of Pete and Brett on guitars is just exquisite and the solid thunderous beats from Spyder on the drums feels Bonham-esque. Rusty's vocals are pure rock star level – slightly gravelly with a mischievous inflection in every syllable like he is cloned from the DNA of Steve Tyler and Robert Plant. Alex on bass just keeps that rhythm thrumming along.
"Hold Onto What You Got" keeps the interest as this just stays at the standard of the rock to be expected that was raised by "Gimme Love".
With a slightly different tempo comes "How do you do it" this balladesque song is pure whiskey joint rock with beautiful riffs and rhythms that swing from the light touch to full on in your face ballsy blues rock. The solos once more are magnificent. You will be air guitaring before you realise what you are doing.
"Sorry Baby" takes you down a slow rocking Beatlesesque emotionally charged road with vocals that are laden with the spinetingling power of Bon Scott's "Ride On". This is one powerful melancholy track that is filled to the brim with a passionate sadness. Beautifully crafted.
Powerhousing back into it is "The Way You Make Me Feel", that kicks ass from the off. It's a hard paced up beat rock and roll tune that may blow your socks off. This is perfect for the car on an open road as it will help you get from A to B with little trouble.
Then comes a track that is as catchy as it is an example of pure excellence of upbeat positive rock. "It's Alright" is perfectly packed with superb feel good rhythm, riffs, and harmonic, foot tapping, head nodding, joyous rock and roll. This is a favourite that has been on repeat.
Then comes a wonderfully trippy Led Zepplin style "Long Long Day" that will perfectly compliment sitting in your favourite seat, feet up, fire on and a nice cold beer. Again Electric Mary just knock it out of the park with an incredibly tight song perfectly delivered.
Last but not least is "Woman" which was recently released as a single. This is a kickass, hard hitting, spinetingling, full on track that just keeps showing off the tight delivery of Electric Mary. This will have you rocking out round the house before you realise it.
Overall, "Mother" is incredibly varied but has a definite Electric Mary rock and roll theme all the way through. This is a thoroughly joined up, tightly delivered, album of superb rock and roll that covers all the bases beautifully. Electric Mary have a stadium sound without any doubt and if this album is anything to go on, they are going from strength to strength.
If someone you know does not understand Rock and Roll, then Electric Mary and "Mother" is all they need to immediately understand what it is about.
"Mother" is an album you need in your collection. Full Stop!
"Mother" is released on 15 February 2019 through Listenable Records
Reviewed by Ivor Whitten, Happy Metal Geek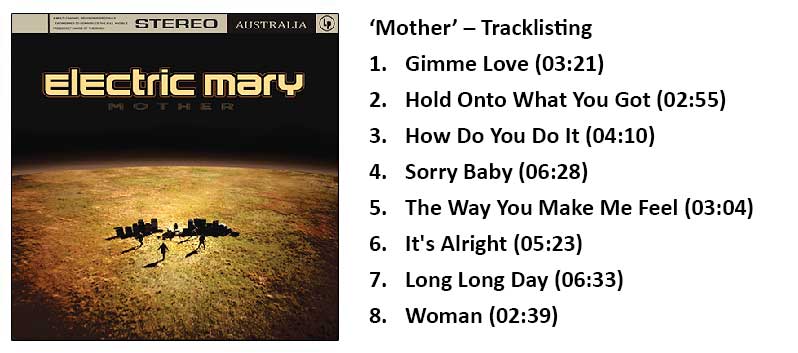 About Electric Mary
While on writing trip to New York, vocalist & songwriter, Rusty Brown, visited the Jimi Hendrix founded Electric Lady Recording Studios. It was there that the infamous studio manager "Electric Mary Campbell" entered his life. Story after story of the rock history that wandered through the studio had Rusty's head spinning, his direction was clear, and it now had a name "ELECTRIC MARY".
Since then, Electric Mary have become globally renowned for their explosive brain-bending live performances and at home in Australia are regarded as one of, if not the best live bands in the country. This Melbourne band have held their own while sharing the world's stages with some of the most revered names in hard rock. Whitesnake took them on the road, Judas Priest asked them to support, Deep Purple had them in stadiums, England, France, Spain and Japan came calling – Kiss, Alice Cooper, Motorhead, Def Leppard all followed and even after 10 years on the road Electric Mary continue to impress rock music fans and media across the planet.
2008's album, Down To The Bone received rave reviews around the world, including Rock Album Of The Year ahead of releases by Metallica and Queen by the UK's Birmingham Mail.
The band 's third album simply entitled 'III' became a milestone in the genre as Rocktopia reviewed:
"Already one of the more promising bands to have hit the scene in the last few years, 'III' keeps up Electric Mary's high standards and is an album that deserves to see them make the next step into the big boys' playground.
Classic Rock Magazine (UK) enthusiastically concluded " 'III' is exactly the kind of album it should be mandatory for every CR reader to own".
In 2014, The band released the infamous 'The Last Great Hope' mini album featuring live hits like 'Sweet Mary C' and the astoundingly moody 'Already Gone'. Next is their live album 'Alive in HELLDorado' which was recorded over two Sold Out nights in The Basque Country in Spain. Mixed in Texas by American Producer The Machine (White Zombie, Clutch and King Crimson). The album is a testament to the band's killer live shows and it's no wonder they already count Iron Maiden, Whitesnake, Judas Priest and E Street Band guitarist Steven Van Zandt among their growing number of admirers.
10 years, three studio Albums – a live album – three E.P.s – dozens of American and European tours – broken teeth, broken bones & broken records 2019 will see "The Mary's" release their 4th studio long player 'Mother' and once again head across the globe to tour their unique Australian brand of take no prisoners Rock N Roll.