Review by Andy Hawes for MPM
Lou Gramm is best known as the voice of AOR legends Foreigner, a man with a set of vocal pipes so unbelievably brilliant that he is almost without equal – probably only Journey's Steve Perry comes close to the unique vocal talent that Lou Gramm possessed before a brain tumour in 1997 and the resulting treatment tragically curtailed much of his fabulous vocal stamina and range.
However, there is more to Lou Gramm than Foreigner. In the late 80s, he released two excellent solo albums, as well as recording tracks for movie soundtracks and it is these recordings that make up the material on Questions and Answers.
Ready or Not was Gramm's first solo album and makes up disc 1 of this 3 disc set. It is certainly the stronger of the three discs, being chock full of the type of utterly fabulous AOR that the mid to late 80s is known for.
At the core of this album is an excellent backing band that includes talented songwriter and multi-instrumentalist Bruce Turgon (with whom Gramm had played in a pre-Foreigner band Black Sheep and who he would later team up with in the excellent but short-lived Shadowking project) and lead guitarist Nils Lofgren, better known these days for being a member of Bruce Springsteen's E-Street Band.
Eight of the ten tracks were written by Gramm and Turgon and this also gives this album a really cohesive feel. It's also rather more guitar based than some of Foreigner's contemporary work had been, which was clearly a deliberate decision on Gramm's part.
Opener 'Ready or Not' is a colossal statement of intent and has a huge chorus full of massive vocals, chunky guitar power chords and subtle keyboards that add colour rather than dominating proceedings and this is pretty much the blueprint for the rest of the album.
A feature of the album is the way that Gramm uses his voice to dramatic effect throughout each song. He goes from low register to high register with ease to build the tracks, then just when you think there's nothing left, he takes you into the stratosphere. The vocal performance on here really is nothing short of stunning.
Highlights are many – in fact it's quite hard to pick out individual tracks because of how strong the material is and it's safe to say that any fan of quality AOR will absolutely love the whole album. 'Heartache' is a monster AOR track and is followed by 'Midnight Blue' which was the first single from the album.
This is a lovely piece of pop-rock, where guitars, keyboards and vocals combine on an irresistible driving anthem. The quality doesn't dip on 'Time', which is another uptempo rocker with big chunky guitars driving the track along. Foreigner were always known for their ballads and Gramm delivers a cracker here in the form of 'If I Don't Have You' which, despite the keyboard dominated sounds still has plenty of power and the quality of Gramm's vocals elevates the track further.
Few people could deliver a ballad like Lou Gramm and this is proven here and on album closer 'Lover Come Back'. Other highlights of the second half of the album include the stomping 'Arrow Through Your Heart' which is a kick-ass AOR rocker with a cool chorus and the keyboard driven 'Until I Make You Mine' which is probably the most Foreigner sounding track on the album.
In 1989, Gramm followed up Ready or Not with his second solo album, Long Hard Look. This makes up disc 2 in this 3 CD set. On this album, the backing was provided by a host of session players including legendary guitarist Dann Huff, keyboard player and songwriter Peter Wolf, fretless bass genius Pino Palladino, guitarist Vivian Campbell (who had just left Whitesnake and would later go on to play with Def Leppard.) Bruce Turgon made a return to duty on this album, co-writing several tracks.
This is not quite as cohesive or consistent an album as Ready or Not, but still contains its fair share of quality tracks. Opener 'Angel With a Dirty Face' is a highlight, written by Gramm with Ina and Peter Wolf. It's a massive piece of AOR with hooklines galore and a storming AOR guitar solo by Dann Huff.
This is followed by first single 'Just Between You and Me' which was co-written by Holly Knight (legendary 80s songwriter an member of cult hi-tech AOR band Device.) It is a delightful piece of pop-rock that showcases Gramm's vocals beautifully.
Second single 'True Blue Love' is another lovely pop-rocker co-written by Peter Wolf. 'I'll Come Running' is co-written by Bruce Turgon and is back to the style and sound of the Ready or Not album. 'Warmest Rising Sun' is a real highlight and is a lovely mid-paced ballad with some wonderful gospel backing vocals adding something extra to the chorus. 'Day One' is a Gramm/Turgon/Wolf co-write and is another highlight. It's a delightful blend of pop and rock and Gramm sells the vocal brilliantly. 'I'll Know When It's Over' is another cracking piece of AOR with more brilliant guitar work from Dann Huff and a colossal chorus.
Disc 3 of this 3 CD set is a series of remixes and includes two versions of the brilliant 'Lost In The Shadows' from the Lost Boys movie soundtrack. It also contains three alternative mixes of 'Ready or Not' an extended remix of 'Midnight Blue' and an edit of 'True Blue Love'.
Whether these will interest you or not will largely depend on your views on the validity of remixes (and whether or not you are old enough to have been the purchaser of the classic 12" single back in the day!) It also contains a 24 minute promo interview with Lou Gramm, which is an interesting listen if you're a fan.
Overall, this is a great collection of AOR/Melodic Rock from one of the very greatest rock vocalists of all time. The quality of the material is very strong, with few fillers. If you missed out on these albums back in the day and are an AOR fan then it's well worth your attention.
The material on CD1 certainly stands up very well. CD2 is possibly a little more of its time, but is still quality stuff. Overall it's a great record of the solo material from one of the greats. Although it's in a similar ball-park to Foreigner, it's definitely Gramm's baby and is all the better for it – this is the music he wanted to make at the time.
TRACK LIST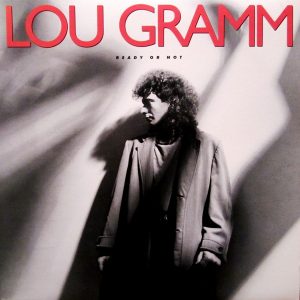 DISC ONE:
READY OR NOT (1987)
1. READY OR NOT
2. HEARTACHE
3. MIDNIGHT BLUE
4. TIME
5. IF I DON'T HAVE YOU
6. SHE'S GOT TO KNOW
7. ARROW THRU YOUR HEART
8. UNTIL I MAKE YOU MINE
9. CHAIN OF LOVE
10. LOVER COME BACK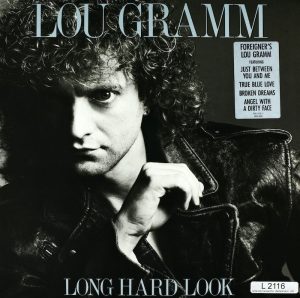 DISC TWO:
LONG HARD LOOK (1989)
1. ANGEL WITH A DIRTY FACE
2. JUST BETWEEN YOU AND ME
3. BROKEN DREAMS
4. TRUE BLUE LOVE
5. I'LL COME RUNNING
6. HANGIN' ON MY HIP
7. WARMEST RISING SUN
8. DAY ONE
9. I'LL KNOW WHEN IT'S OVER
10. TIN SOLDIER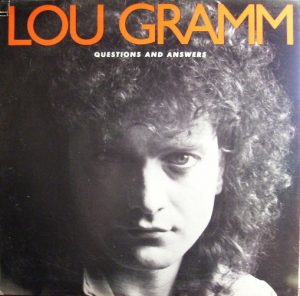 DISC THREE:
SINGLE VERSIONS /
QUESTIONS AND ANSWERS (1987-89)
1. LOST IN THE SHADOWS (THE LOST BOYS) (VOCAL EDIT)
2. LOST IN THE SHADOWS (THE LOST BOYS) (VOCAL LP VERSION)
3. READY OR NOT (ROCK REMIX)
4. READY OR NOT (EXTENDED DANCE MIX)
5. READY OR NOT (INSTRUMENTAL REMIX)
6. MIDNIGHT BLUE (EXTENDED REMIX)
7. TRUE BLUE LOVE (EDIT)
8. QUESTIONS AND ANSWERS (UNBANDED – PROMO INTERVIEW ALBUM)
RELEASE – 28th May 2021
LABEL – HNE Records